About rwb330
rwb330
Concept Store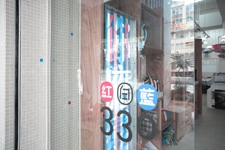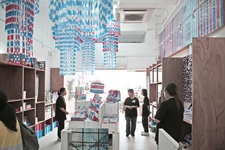 "rwb330", the first-ever concept store features with the classic red-white-blue fabric, is a collaborating project between New Life Psychiatric Rehabilitation Association ("New Life") and the Urban Renewal Authority, sponsored by the grants from the "Enhancing Employment of People with Disabilities through Small Enterprise" Project of Social Welfare Department. It is also the first partnership project between New Life and the renowned artist and designer – anothermountainman (Mr. Stanley Wong) on the branding and creative development of this social enterprise.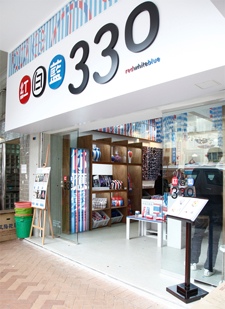 red-white-blue (rwb) is omnipresent, at construction sites, hawkers stalls, Lowu border and everywhere. It witnesses the economic boom in the 60s-70s when Hong Kong people were striving for life. Each piece of rwb homecoming bag loaded with collective memories, telling our stories of life with bitterness and sweetness, laugh and tears. That's why rwb is a metaphor for fortitude, adaptability and industriousness of Hong Kong people.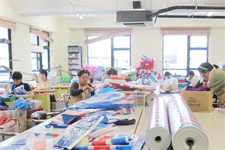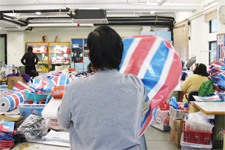 rwb330, furnished with "red-white-blue" materials and themed on "Positive Hong Kong", integrates the artistic atmosphere of modern art and the 60's – 70's of Hong Kong. In order to continue the rwb spirit, rwb330 aims at promoting the spirit of "Positive Hong Kong" and holistic health ("330") and helping people in recovery of mental illness to integrate into the society and achieve self-reliance.
We believe rwb is not only our collective memory but also an inheritable art and culture. Let's uphold the spirit of Hong Kong — be positive and committed to build a better tomorrow.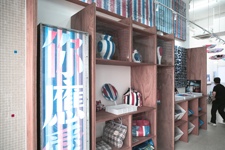 Exhibiting the red-white-blue artworks of anothermountainman and an array of red-white-blue products and fabric he gathered from all over the world in the past years. Red-white-blue exhibits from partnering artists are also on display.
"Positive Hong Kong" Products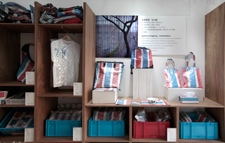 rwb330 is selling not merely a merchandise, but local art. Each piece of handicraft promotes the "Positive Hong Kong" spirit – perseverance and endurance.
Such products include:
- "rwb330 x amm" Crossover Brand
- Red-white-blue products and handicrafts made by New Life's sheltered workshop
- Local origin products from partnering artists, design schools and students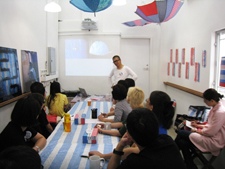 Through amusing and interactive activities, our creative workshops drive all participants to the artistic conception of art and culture and the creative world. They also enable participants to take a break from the busy metropolis and to rejuvenate their energy levels through the power of positive thinking.
Creative Floral Arrangement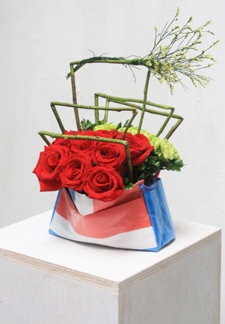 Apart from decorating with red-white-blue fabric, the floral arrangement is innovatively integrating with rwb products, such as rwb330 X amm Eco Cup, rwb330 x amm Place Mat, etc., which enable customers to recycle and reuse the products. Such eco-friendly elements add value to the services.