Partners
Lo Yip Nang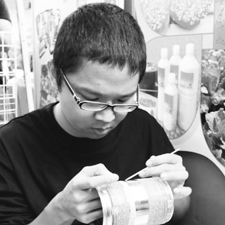 Lo Yip Nang found his interest in drawing different lines and patterns when he was small. He entered New Life Building Sheltered Workshop to receive vocational training in April 2000, and started learning clay art in 2005. He began with simple clay accessories, and then clay strips with patterns, and later some large clay art pieces with his own style. He received appreciation from others which greatly strengthened his confidence and helped him overcome his disability to become a real artist.
Nang sees a right path and his value in clay art. He likes communicating with others through his clay art, which leads people into his world, and allows him to see the world of others.
Nang's talent was recognised by winning the 7th Hong Kong Abilympic Fimo Soft Clay Art Contest in 2007, the Merit Prize in the SEPD x Quiksilver T-shirt Design Competition in 2009 and the Bronze Prize in the Open Division of Cross All Borders: Hong Kong Festival Showcasing New Visual Artists with Disabilities 2012.