Father of rwb
Partnering with New Life
Stanley integrated red-white-blue into his work since 2000
in an effort to epitomise the Hong Kong spirit and local culture.
"Do Not Dread Bearing Weight" Large Shoulder Bag (wb)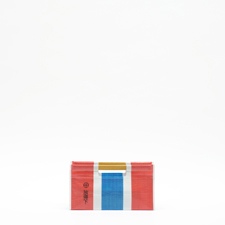 "Unloading Your Mind" Handbag with Wooden Handle
New Life also launched red-white-blue products which
are produced by people in recovery from mental illness since 2006
to demonstrate their ability and resilience.
The shared vision contributes to
the establishment of rwb330,
the first and only concept store of red-white-blue in Hong Kong,
which is a partnership project between Stanley Wong and New Life in 2012.
The rwb products themed with "Positive Hong Kong"
is also the first crossover brand between Stanley and Social Enterprise.